Webcam Models Wanted!!!
ModelX has been acquired by Internet Modeling, the web's #1 webcam modeling agency!
Webcam models can make $100,000 or more per year working at home full or part time. We have many webcam job openings for female and male webcam models. Being a webcam model lets you work from home any hours you want without having a boss watching over your head! Please see our
webcam jobs
page for more details.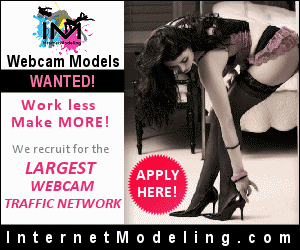 The average webcam model salary is from $500 to $1,000 per week working 20 to 25 hours. We recruit for the largest network of adult webcam sites, with over 5 million visitors per day! Do you have what it takes to be a webcam model? Find out by filling out our
webcam model application
form, or check out the list of
cam jobs
currently available. Don't want to become a webcam model? You can still make money being a webcam modeling agent by joining our
webcam affiliate program
.


© Copyright ModelX Online Modeling Agency. All rights reserved.



Partners: Cam Models :: Cam Jobs :: Webcam Model